I know what you're thinking… do we really need more altcoins? 
Some of you may have read the article about Quatloocoin and the Quatloo trader that I wrote about here. That article introduced the first "conditional freeware" in the altcoin space developed by Mr. Markus for advanced trading features across multiple exchanges that is still being developed.  There's a new platform being developed using the same concept except this one is for cryptocurrency checkout.  Most cryptocurrency checkout platforms have been focused on web-based plugins for existing websites through OpenCart, WordPress, Dwolla, and others. Paypal recently partnered with Bitpay in order to bring Bitcoin payments to Paypal users. Other platforms are popping up to use the Bittrex APIs for merchant processing solutions as well, such as Cannapay which was written about here.
One team aims to bring the checkout software directly to your computer through a QT wallet client. This would essentially turn any computer into a point-of-sale that could accept every currency listed on Bittrex through the QT wallet interface.
Introducing CheckOutCoin, a new cryptocurrency that utilizes the "conditional freeware" model to fund development:
CheckoutCoin is born from a real need in the market that our founder personally encountered while looking to integrate alt-coin payments into an online shopping cart. As we all know, crypto currencies in their present nascent stage tend to be highly volatile in price and volume. For certain currencies this makes pricing and acceptance a challenge for the merchant. The challenge arose as to how to manage the volatility without having to actively manage pricing of the entire inventory, and without the consumer having to go to the checkout process in order to find out the price in the currency of their choice. - CheckOutCoin Whitepaper First Draft
CheckOutCoin will be conditional through a tiered system.  So, the more CXC that you hold, the more features of the software will be available to you.  CXC will be in limited supply.
CXC Wallet V 1.1.1 (always be sure to get the latest version from ANN thread)
CXC cryptocurrency specifications:
Total Coin Supply 5,000,000 CXC
Proof-of-Stake Interest Rate (per annum) 4%
Block Spacing 60 seconds
Blocks to Maturity 60
The Vision: 
The CheckoutCoin vision is the creation of a complete alt-coin payments solution that integrates automated dynamic pricing. This advanced dynamic pricing engine is devised to calculate in real-time the liquidation value of an equivalent amount of the base currency (for instance US dollars or Euros). In other words, given defined base pricing in a broader currency the engine can look at the order depth and books across multiple supported exchanges and determine what the real equivalent value is in altcoin quantity. In so doing, the CheckoutCoin engine will provide the ability to smooth out the impact of volatility on pricing accuracy, by providing the capability to integrate real-time pricing into consuming shopping cart software to a degree that has not been made available to date. Building on top of that core capability, the plan for CheckoutCoin is to provide several key components over time:

1. A "gateway" or web-based service that anyone can integrate with to retrieve dynamic pricing and process payments in supported alt-coins. This will allow both payment processing as well as a pricing feed.

2. A reference shopping cart implementation that merchants could use off the shelf to stand up an e-commerce website utilizing the full capabilities of the CheckoutCoin gateway.

3. Plugins or adapters for existing COTS off-the-shelf shopping cart packages.

4. Wallet client integration to bring the same capability into the merchant's brick-and-mortar operation.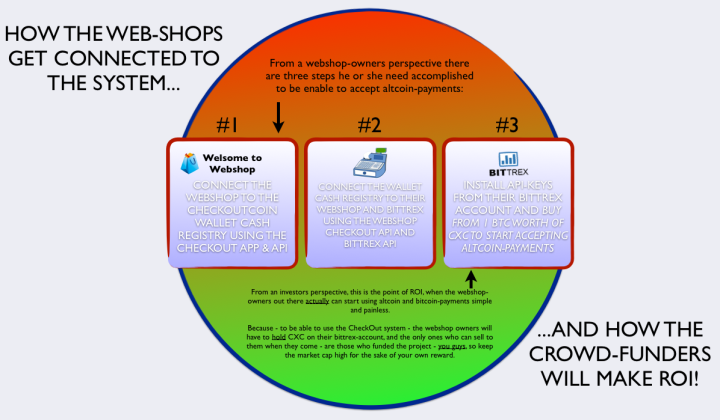 I am very interested to see how this coin develops and to see firsthand the software.  Definitely keep your eyes on this one!
As always do your own research and don't invest more than you can afford to lose.
If you decide to invest in CXC, please consider using my referral code: http://crowdsale.cxc.bid/Home/BuyerAddress?ref=2264BF1F90324817AAE42EBC97A4A401
Questions or Comments? Leave them below!