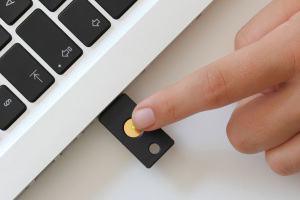 fObsfuscate!
FObfuscate is a recently announced, cloud based, identity provider making fast inroads to crypto street.  The hardware 2FAA (two factor anonymous authentication) solution offers Yubikey provisioning with a shared secret, complete activity logging, multiple & lost fob capabilities with out of band, real time, notification via SMS and / or email.
Yubikey
fObfuscate has chosen to partner with Yubikey because their security fobs provide the best user experience, the lowest cost of ownership and the best security for a second factor of authentication based on user possession.
It is well worth noting that ones investment in a Yubikey will pay off over and over, not just for fobfuscate.  See https://www.yubico.com/applications/ and https://www.yubico.com/blog/  for the full story on Yubi.
For the cryptocurrency alpha and beta testing, Fobfuscate is teaming with Cannacoin (CCN). The 2FAA layer is being incorporated into the daemon version of the CCN wallet as a secure session. This combined hardware / software solution appears to render a crypto wallet totally unusable without the token and shared secret. Each and every RPC call must pass the 2FAA test including listing transactions, sending coin and most other wallet functions. The foundation of the Yubi one time password ( OTP ) is nothing less than a deathblow to key-logger attacks.
Several fobfuscate enabled / protected bitcoin wallets will be provided in the final phases of the beta test.
The fobfuscate security model can be used to protect web content, reputation and financial value.
Learn More
https://fobfuscate.azurewebsites.net/index.html
https://www.yubico.com/products/