A while back, I requested a private beta invitation from Coinigy.com, after reading this CJ interview with the developer.  It was a delight to see my invitation delivered after seemingly waiting months for it to arrive.  I had high hopes for seeing a tool that can seamlessly combine all of my exchange accounts into one tool, and yet still provide the same functionality as logging into the site.  Hopefully, Coinigy can deliver.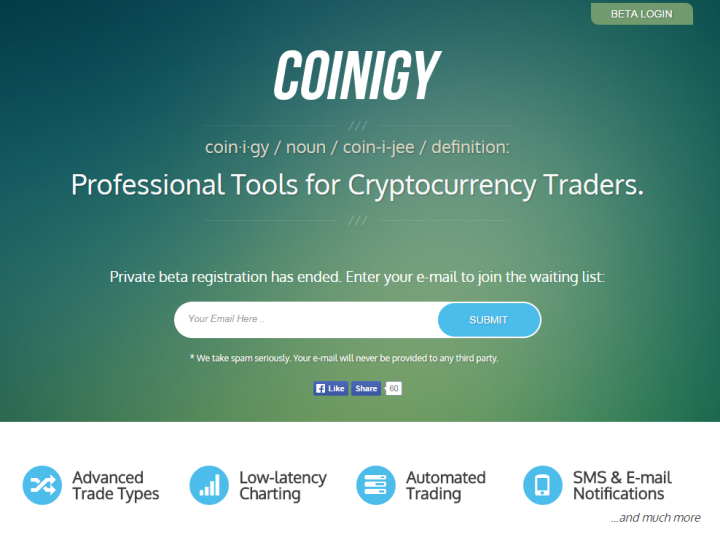 Account Overview
Upon logging in, a user will note the very attractive overview page containing several useful graphs.  It boasts a news feed window, price ticker, and trollbox.  Fortunately, the trollbox and ticker can be turned off fairly easily if you would like to cut down on the noise, as I have done.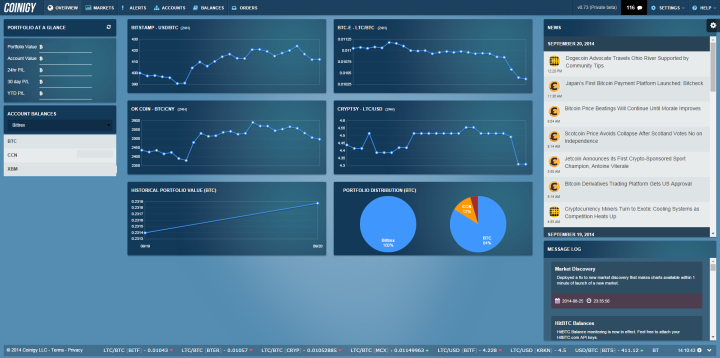 Exchange API Keys
Getting setup with the exchange APIs is very straightforward.  One may find the most difficult part is logging into your exchange accounts and making sure the API is activated, which in most cases requires you to setup 2-factor authentication if you have not yet done so.  Coinigy makes the process easy from that point by allowing you to select the exchange from a drop-down and providing the API key and corresponding secret key.  Currently Coinigy supports Bitfinex, Bitstamp, Bittrex, BTC China, BTC-e, Bter, Cryptsy, HitBTC, Kraken, OkCoin, and Poloniex.  For my purposes I set up accounts for Bittrex and Cryptsy only.
Trading Platform
Selecting the tab for "Markets" brings you to the trading platform for Coinigy.  Initially one will appreciate the helpful charts and tables showing useful trade information.  On the far left side is a list of exchanges and their corresponding types of currency pairs.  This is where you select the coin you are interested in trading. The chart itself is highly configurable to allow most every type of technical indicator, as many will find it an improvement over the charts found on most exchanges.  The trade information on the right provides an overview of the price information, recent orders, and the bid/ask order book for the currency pair you have selected.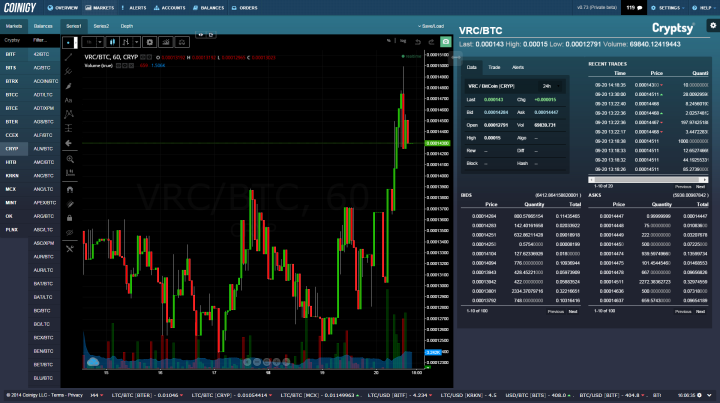 In order to put in a price to execute a trade, one has to click the tab for "Trade", and hides from view the bid/ask order book and recent trade history.  One small gripe here is that it's not ideal to have to tab back and forth from the "Data" tab to the "Trade" tab to input the desired price of the order you are executing. Another suggestion would be to include some advanced types of trades, including a stop loss or take profit feature.  Currently a limit trade is the only type allowed.  However, as you can see below the interface is very straightforward for the most part.  It will be interesting to see if Coinigy enhances this functionality prior to opening up to a broader release.
Wallet Balances
Navigating over to the balances page shows a comprehensive list of all balances on your exchange accounts.  The page includes a chart page which shows you a graphical pie chart of your balances as well as a historical portfolio value line chart.  Overall the one suggestion I would make of this page is addressing the lack of functionality around managing your wallets.  Coinigy does not support making deposits or withdrawals from your coin balances, or showing your wallet addresses.  This may be a consideration made for security, but it reduces the overall utility of the application if one has to continue logging into their main exchange account in order to perform deposits/withdrawals.  That said, Coinigy is still providing a useful way to keep track of all your finances across exchanges.  In addition they provide useful charts showing the allocation of which types of coins make up your portfolio value.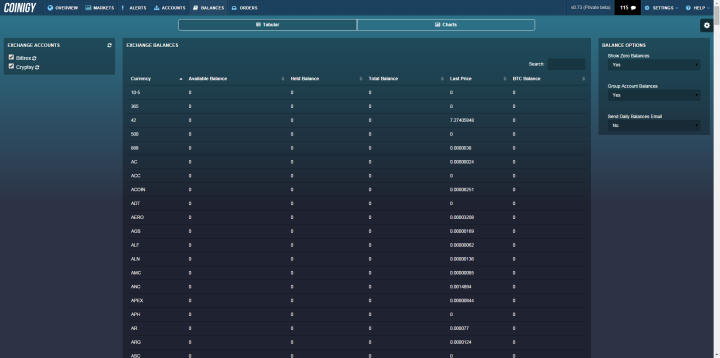 Conclusion
Despite some room for improvement, Coinigy offers a diverse array of features for anyone who uses multiple exchange accounts.  In fact, I did not even go into all of the other features which include a tool to set price alerts, a wallpaper/background customization, order tracking, and the ability to save charts.  Considering it is still in a limited beta there is also hope for additional features in the future.  While I would like to see some more user interface considerations made, overall I am very impressed with what Coinigy provides to consolidate our cryptocurrency trading into one application.
Note: While Coin Joint aims to share our positive and negative experiences with you in our reviews, we always suggest that you do your own research before entering API keys into a third-party trading application.
Review Overview
Summary : Coinigy provides a great layout and advanced tools for managing trades among multiple cryptocurrency exchanges. Adding additional wallet capabilities along with more trade options would truly make this a killer app.